Ever since I was a young girl, I have watched my mom perform prayer and fasting on Karva Chauth- a Hindu festival that usually occurs in October somewhere between Dussehra and Diwali according to the Hindu lunar calendar.
For those of you who might not be familiar with this festival, Karva Chauth is typically celebrated by married Hindu women (especially in northern India) as a day where they fast and pray for their husbands' health, prosperity and long life. Many single women might observe this fast as well for their future life partners.
"Karva" is another word for "pot" (specifically a small earthen pot) and "chauth" means "fourth" in Hindi- which refers to how the festival falls on the fourth day of the Hindu lunar month. Karvas are big earthen pots used to store wheat and it may be that this tradition of fasting began as a prayer for a good harvest.
Usually the fast begins at sunrise and concludes at moonrise. This is also a day when women get to take a day off from doing any housework (?) while they fast, spend time in prayers as well as joining with other women who are keeping the same fast. At night, the festival concludes with women dressing in their finest traditional Indian dresses ( sari, salwar kameez, lenghas) and joining together in prayer and singing while they wait for the sighting of the moon (and dinner! ?)
At times, my dad has also joined in the fast with the same intention- to pray for my mom's health and wellness. This year I know will be especially poignant and meaningful for my parents as they give thanks for my dad continuing to heal beautifully from his surgery earlier this year. They have been married for 54 years so this is another wonderful opportunity to express their gratitude and devotion to each other.
In the past, when I was still married, I too observed the fast, and when I divorced, at times, I would still join my mom in the fast to support her practice, since there is a lovely aspect of female bonding and sisterhood that often emerges during this fast.
​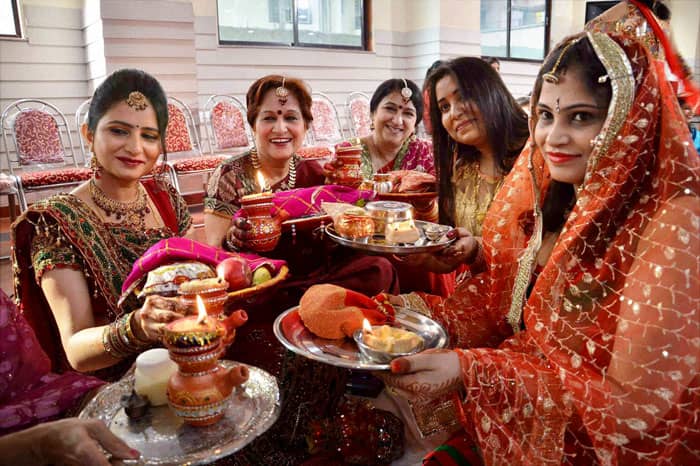 ​
As I was reflecting on this festival, I realized that we can all benefit from a time of fasting- not just for our physical health and well-being but also as an opportunity to "fast" from our habitual ways of seeing ourselves, our relationships, our place in this world and the ways that we are showing up in our lives that no longer serve. Particularly, for me, as I fast today, I want to see those closest to me with fresh eyes, as if I am seeing them for the very first time. I want to empty my mind of judgments, expectations, preconceptions and all past ideas so that perhaps I can have a glimpse my beloved friends and family beyond their personality and physical expression.
What would that be like?
To see myself and you for the very first time. Without any taint or residue from past experience. Without any expectations that you be any different than you are. Without any expectations of myself to be different either.
What would that feel like?
To free you and myself from all limitations of present, past and future so that we can both simply be held in this precious moment of Now. In the gentle Presence of acceptance.
May this festival inspire you to "fast" from that which no longer serves and instead allow a new way to see- with love, joy and peace.
​
Image created by starline – www.freepik.com
✕
Join the Newsletter
Subscribe to get our latest content by email.